2020-04-29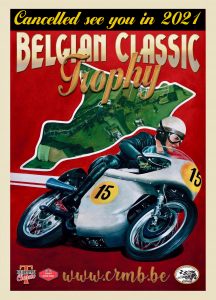 Like so many other organisers of sports, cultural or any other events, the past few weeks the CRMB has been waiting and reflecting for any decision to be taken regarding the two Classic Bike events it organizes every year.
Following decisions taken by the Belgian National Security Council concerning the fight against the Covid-19 virus, more specific as to the interdiction until the end of August 2020 to organize mass-events, the CRMB to its greatest sadness decided to cancel the two 2020 racing events organized by them. More specifically, the BCGP at the track of Spa-Francorchamps during the Biker's Classic event and the Belgian Classic Trophy (21-22-23 of August), our annual top event at Gedinne, have been canceled for 2020.
This was not an easy decision to take but the prohibition on mass-events, the uncertainty on travelling from abroad (about 70% of the pilots and spectators are foreign), the unability to guarantee medical staff both at the tracks and in the neighbouring hospitals and the very strict sanitary rules and regulations which are almost impossible to guarantee for both participants, spectators, organizing staff and volunteers, forced us to do so.
Of course we carefully analized and considered actions to be taken long before but due to the real dangers ahea d of all of us, we decided to act properly and give, as always, absolute priority to the health and safety of all our friends.
Our yearly encounters at Gedinne have been moved forward to 20, 21 and 22 of August 2021 where we will gladly meet at the 15th edition of the Belgian Classic Trophy which will be, putting all our efforts towards it, an even more festive and happy meeting for all of us.
Hoping to see you all then,
The CRMB